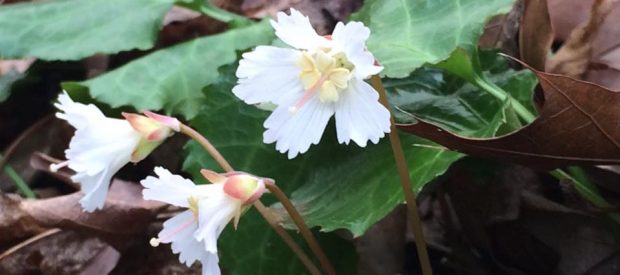 The Oconee Bell flower signals the beginning of spring in the Jocassee Gorges, and Friends of Jocassee will celebrate the time of bloom, and the explosion of spring across the Jocassee Gorges, at the sixth annual BellFest Celebration.
The featured speaker of the day will be Kate Farrah. Many know Kate as an instructor in the Native Plant Certification series at the SC Botanical Garden, but what you might not know is that she wrote her grad school
dissertation on the long-term viability of the species, given that individual populations ('stations') of the
diminutive plant have been separated by acres of water from the building of Lake Jocassee.
As always, Upstate Master Naturalists will be on hand to guide visitors along the Oconee Bell Trail and tell the
unusual story of this elusive wildflower. And as always, new and renewing members of Friends of Jocassee will be treated to a lake tour into the heart of Oconee Bell's native habitat.
This year, vendors will join exhibitors and offer visitors a chance to buy local handcrafted items available nowhere
else, including Native American baskets, woodwork, and herbal soaps and tinctures. Our favorite herbalist
Robin McGee will be on hand to give an instructional plant walk-and-talk around the park, and authors with
deep roots to Jocassee Valley will be on hand to reminisce about the good ol' days. Visitors can sit back and enjoy the
original tunes from Conservation Theory, an Appalachia Americana folk band who has played for almost every
BellFest to date. Then enjoy the award-winning Blue Ridge Mountain Clogging Team from Salem, SC.
BellFest is a rain or shine event, and FOJ thanks Duke Energy for continuing to provide the 'Big Tent' for
this annual Oconee Bell Celebration!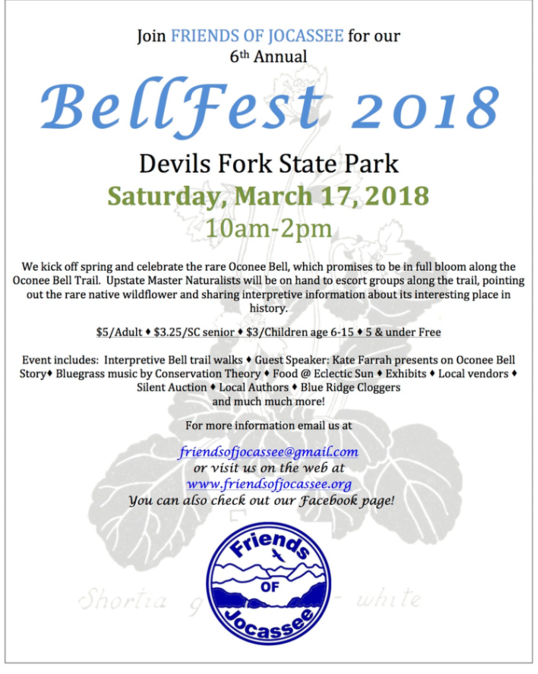 https://www.friendsofjocassee.org/upcoming-events.html