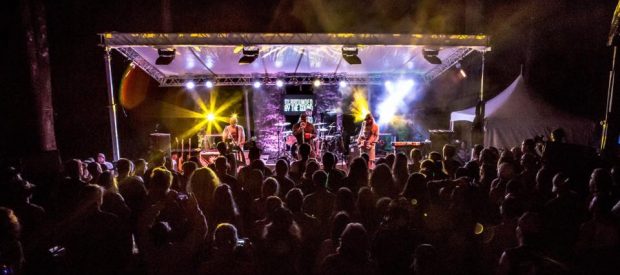 Surrounded By The Sound Music & Arts Festival 2018 | Chattooga River Resort and Campground | Thursday, 30. August 2018
THE 2nd ANNUAL SURROUNDED BY THE SOUND MUSIC & ARTS FESTIVAL – The East Coast's Premier Grassroots Music & Arts Festival Presented by Sun-Dried Vibes
– Labor Day Weekend –
– August 31 – September 3, 2018 –
– Official Pre Party – August 30, 2018 –
– Chattooga River Resort & Campground –
– Long Creek, SC –
Surrounded by the Sound Music & Arts Festival is bringing the best of the best in the Reggae/Rock Scene to you as a three day camping and arts music festival! Two Main Stages plus Acoustic & Late Night Stages, Disc Golf, Kids Zone, Craft Beer, Food & Merchandise Vendors, Art, Yoga, and GOOD VIBES!
Our Mission For Surrounded By The Sound is to showcase the amazing talent that lies on the East Coast in the Reggae/Rock Scene while establishing a community of like-minded people who relate to the positive movement through this music and wish to see a change in the world.
EARLY BIRD TICKETS, VIP UPGRADES, ULTIMATE SBTS VIP EXPERIENCE TICKETS & PRE PARTY TICKETS GO ON SALE FRIDAY, SEPTEMBER 15, 2017 at 12 AM EST!!!!
Thursday, August 30th – OFFICIAL PRE PARTY
$40 Ticket | Early Access to Campground (8 AM)
Music Line-Up: TBA
Tickets Available at:
Our Partners/Sponsors: Infamous Ink Tattoo Studio | Bangbox Percussion | Black Rose Custom Prints | Innova Disc Golf | Rowdy Roots | Flowlife Entertainment
Food Vendors: Pep Rolls | More TBA
Retail, Apparel & Art Vendors: Hympknotic Designs | More TBA
Not into Camping? – Hotels in Clayton, GA
Days Inn | America's Best Value Inn | Quality Inn & Suites
FAQ for SBTS:
Q: Does the $100 Early Bird Ticket Price include entry each day to the festival and camping for Friday through Monday?
A: Yes!
Q: Is the festival held at the Chattooga River Campground and Resort?
A: Yes!
Q: Are there facilities for people to use while camping?
A: Yes! There are two bath houses on site that will be open for select hours in the morning and evening.
Q: Is tent camping on a first come, first serve basis?
A: Yes! We have enough camping space for all attendees, but the site you camp at will be on a FCFS basis.
Q: Will cars be allowed to pull into the Campground to unload camping gear?
A: Up Until 12 PM on Friday, Yes! After 12 PM on Friday the campground gate will close and the road will no longer be in service. We recommend bringing a cart or wagon to help you get gear to the campsites. We will also have volunteers and golf carts available to assist in this area as well.
Q: Will there be amenities available for campers?
A: Yes! We will have everything you may need/want available at the Lodge.
Q: Is there electricity or picnic areas available in the Campground?
A: Yes! Every campsite has a covered picnic area with electrical outlets available. These are communal and meant to be SHARED!
Q: Will the restaurant/bar at the Lodge be open and serving food/drinks?
A: Yes! The Lodge will be fully functional that weekend. We will also have several food vendors at the festival as well as a craft beer sponsor serving brews at the festival!
Q: How do I sign up for the Disc Golf tournament?
A: Registration for the tournament will be on Friday night ($5) and the tournament will be played Saturday morning.
‼️‼️‼️ADDITIONAL INFO FOR SBTS:‼️‼️‼️
1.) Ride Share and Carpooling is encouraged because parking will be tight, PLUS it's environmentally friendly!
2.) No vehicles will be allowed in the campground from noon on Friday (8/31) till Monday Morning (9/3).
3.) We have space for RVs but no hook ups.
4.) Absolutely NO foot traffic on the asphalt road.
5.) No personal golf carts, dirt bikes, quads or ATVs.
6.) No outside drinks in the stage area.
7.) There will be no reserved or "roped off " campsites. All pre marked sites are shared and the gazebos and utility areas are communal.
8.) All vehicles in unauthorized parking locations will be towed at owners expense.
ATTENTION ALL RV/CAMPER GUESTS: If you plan on attending SBTS 2018 and will be bringing an RV/Camper or staying in your car at night, PLEASE EMAIL lucky@sbtsfestival.com to ensure that you are accommodated and taken care of. We want this to be an enjoyable experience for EVERYONE, and together we will achieve this goal.