Raspberry Almond Scones
2 cups unbleached all-purpose flour
½ teaspoon baking soda
¼ teaspoon salt
2 teaspoons baking powder
¼ cup sugar
Dash ground nutmeg
3 tablespoons cold unsalted butter, cut into small pieces
1 cup low fat sour cream (or 8 oz nonfat plain yogurt)
~ 1 teaspoon almond extract
~ ¼ cup raspberry fruit spread
~2 tablespoons chopped almonds
In a food processor combine dry ingredients.  Pulse/cut in the butter until the mixture resembles coarse meal.  Transfer to large bowl and add the sour cream and almond extract.  Stir until just moistened.  (The dough will be sticky.)  Turn onto a floured surface.  Knead 4 or 5 times and press (or roll) out to ~ ½-inch thickness.  Cut out with heart-shaped cookie cutter.  Make a slit in each heart.  Place ~ 1 teaspoon of raspberry spread in each slit.  Sprinkle with almonds.  Bake in a 400 deg. F oven for 10-12 minutes.  Serve warm with butter.  (Of course, you can make these scones in any shape you'd like.)
MAKES ~ 12 SCONES.
As the South Carolina apple season draws to an end, we want to share our favorite apple breakfast recipe.  It is absolutely decadent!  We found this recipe in the November 2010 issue of The Costco Connection, believe it or not.  And, we must give credit to the creator, Nadine Mesch of Mount Healthy, Ohio.  (You're a genius Ms. Mesch!)  Here it is…
APPLE TOFFEE FRENCH TOAST with Apple Syrup (Makes 8 servings)
 FRENCH TOAST:
8 Cups French bread, cut into 1-inch cubes (approx. ½ bakery loaf)
3 tart apples, peeled and chopped (we used the local Arkansas Black apples we picked at Bryson's Orchard in Long Creek, SC)
8 ounces light cream cheese, softened
¾ cup brown sugar
¼ cup granulated sugar
¼ cup apple juice
2 teaspoons vanilla, divided
½ cup chocolate English toffee bits
5 large eggs
¾ cup milk
Cinnamon spice blend to taste
 Place half of the bread cubes in a greased 13 x 9-inch baking pan; top with apples.  In a large bowl, beat the cream cheese, sugars, apple juice and 1 teaspoon vanilla until smooth; stir in toffee bits.  Spread over apples.  Top with remaining bread cubes. In another large bowl, beat the eggs, milk, 1 teaspoon vanilla, and cinnamon spice blend until well-blended; pour over bread.  Cover with foil and refrigerate overnight.
Remove from the refrigerator 30 minutes before baking.  Bake, uncovered, at 350 deg. F for 40-45 minutes, or until a knife inserted in the center comes out clean.
While the French toast is baking, prepare the syrup.
APPLE SYRUP:
1 cup sugar
2 tablespoons cornstarch
½ teaspoon cinnamon
½ teaspoon nutmeg
2 cups apple juice
2 tablespoons fresh lemon juice
1 teaspoon vanilla extract
5 tablespoons unsalted butter
Pinch of salt
In a medium-size saucepan, whisk together the sugar, cornstarch, cinnamon, nutmeg, apple juice and lemon juice; heat to a boil, whisking constantly.  Boil for 1 minute, and then stir in butter.  Serve over warm Apple Toffee French Toast, along with a dollop of whipped cream.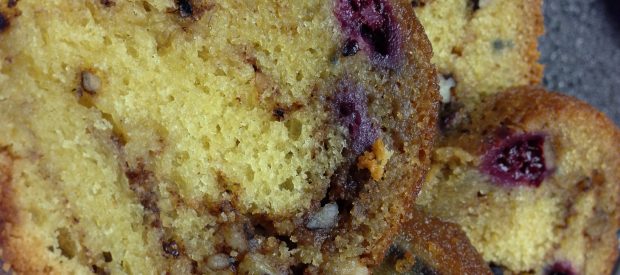 Yes, it is delicious!  Here's the recipe…VANILLA BLACKBERRY STREUSEL COFFEE CAKE   Refrigerate leftovers (if there are any!).
VANILLA BLACKBERRY STREUSEL COFFEE CAKE
From the Kitchen of Sunrise Farm Bed & Breakfast
Salem, SC
3 cups unbleached all-purpose flour
1 ½ teaspoons baking powder
1 ½ teaspoons baking soda
¼ teaspoon fine sea salt
1 ½ cups unsalted butter, softened
1 ½ cups granulated sugar
3 eggs
1 ½ cups light sour cream
1 ½ teaspoons pure vanilla extract
¾ cup firmly packed brown sugar
¾ cup chopped walnuts
1 ½ teaspoons ground cinnamon
Dash nutmeg
1-2 cups fresh blackberries
2 Tablespoons pure vanilla extract mixed with 2 Tablespoons water
Butter and flour (or spray liberally with non-stick baking spray) 10-inch bundt pan.
In a medium bowl sift together flour, baking powder, soda, and salt and set aside.  In a large mixing bowl combine the butter and granulated sugar and beat until fluffy.  Add the eggs one at a time, beating well after each addition.  Blend in the sour cream and vanilla.  Gradually add the sifted dry ingredients and beat well.  In a separate small bowl combine the brown sugar, nuts, cinnamon, and nutmeg.  Spoon one-third of the batter into the bundt pan, sprinkle with half of the nut mixture, and top with half of the berries.  Repeat.  Add the remaining batter.  Spoon the diluted vanilla over top.  Bake in a 325 deg. F. oven for 60 to 70 minutes, or until a toothpick comes out clean.
Cool completely before removing from the pan.
MAKES 12-16 SERVINGS.