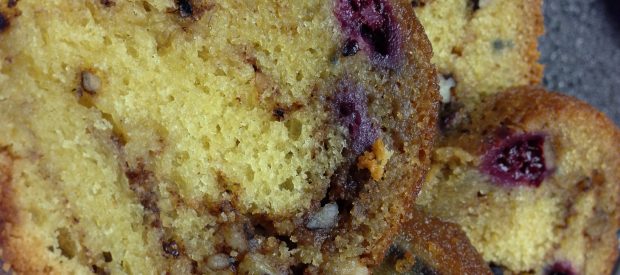 Yes, it is delicious!  Here's the recipe…VANILLA BLACKBERRY STREUSEL COFFEE CAKE   Refrigerate leftovers (if there are any!).
VANILLA BLACKBERRY STREUSEL COFFEE CAKE
From the Kitchen of Sunrise Farm Bed & Breakfast
Salem, SC
3 cups unbleached all-purpose flour
1 ½ teaspoons baking powder
1 ½ teaspoons baking soda
¼ teaspoon fine sea salt
1 ½ cups unsalted butter, softened
1 ½ cups granulated sugar
3 eggs
1 ½ cups light sour cream
1 ½ teaspoons pure vanilla extract
¾ cup firmly packed brown sugar
¾ cup chopped walnuts
1 ½ teaspoons ground cinnamon
Dash nutmeg
1-2 cups fresh blackberries
2 Tablespoons pure vanilla extract mixed with 2 Tablespoons water
Butter and flour (or spray liberally with non-stick baking spray) 10-inch bundt pan.
In a medium bowl sift together flour, baking powder, soda, and salt and set aside.  In a large mixing bowl combine the butter and granulated sugar and beat until fluffy.  Add the eggs one at a time, beating well after each addition.  Blend in the sour cream and vanilla.  Gradually add the sifted dry ingredients and beat well.  In a separate small bowl combine the brown sugar, nuts, cinnamon, and nutmeg.  Spoon one-third of the batter into the bundt pan, sprinkle with half of the nut mixture, and top with half of the berries.  Repeat.  Add the remaining batter.  Spoon the diluted vanilla over top.  Bake in a 325 deg. F. oven for 60 to 70 minutes, or until a toothpick comes out clean.
Cool completely before removing from the pan.
MAKES 12-16 SERVINGS.