Ongoing Events
2nd Saturdays — 3-5pm, Old Time Music Gathering, Oconee Heritage Center, Walhalla More Info

3rd Saturdays — "Music in the Mountains," Hagood Mill, Pickens, SC. For more information call 864.898.2936

3rd Saturday each month, 6:30pm, "Movie Night at the Museum", Oconee Heritage Center, Walhalla More Info

Last Tuesday each month, 7:00pm, "The Green Screen Movie Night", Oconee Heritage Center, Walhalla More Info

Thursdays 6-8pm — "Jazz on the Alley", 6:30-9pm, Ram Cat Alley, Seneca More Info



Fridays 7pm, Blue Grass Music, The Silver Dollar Music Hall, Long Creek, SC. Call 864.647.0188  

More Info

3rd Saturday each month through October 15th 2011, 4-9pm, Classic Car Cruize-Ins, Seneca Family Restaurant, Seneca, SC Call 864.566.9599.

Mid October, Annual Oktoberfest, Walhalla, SC More Info

Saturdays, 2-6 pm (April 14, May 12, June 9, 2012) Music on the Mountain, Table Rock Lodge, Pickens. More Info 

Fridays, 8-10 pm (May 25, June 1, June 8, June 15, June 22, June 29, 2012) Blue Grass Music & Square Dancing, Oconee State Park, Mountain Rest. More Info
Local Arts & Theater Shows
Blue Ridge Arts Center 

More Info

Clemson University Brooks Center for the Performing Arts More Info

The Clemson Little Theatre More Info

Oconee Theater More Info

Walhalla Civic Auditorium More Info
Northwest Corner of South Carolina 
The northwest corner of South Carolina is known as South Carolina's Freshwater Coast because of over 1,000 miles of shoreline on Lakes Keowee, Hartwell and Jocassee.
The area is a haven for fisherman, boaters, hikers, birdwatchers and nature lovers. Pictured above are Yellow Branch Falls and Lake Keowee. The area and Sunrise Farm were featured in the March/April 1995 issue of National Geographic Traveler, the May 1999 issue of Southern Living, the summer 2008 issue of Sandlapper Magazine, the Nov/Dec 2008 issue of Blue Ridge Country, and the July 2012 issue of Southern Living.
For South Carolina Upcountry vacation or relocation ideas, check out SC Mountain Lakes, Upstate Today, Discover Upstate South Carolina, Lake Jocassee and Oconee Country.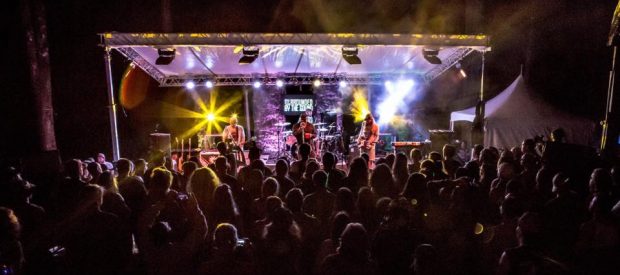 Surrounded By The Sound Music & Arts Festival 2018 | Chattooga River Resort and Campground | Thursday, 30. August 2018
THE 2nd ANNUAL SURROUNDED BY THE SOUND MUSIC & ARTS FESTIVAL – The East Coast's Premier Grassroots Music & Arts Festival Presented by Sun-Dried Vibes
– Labor Day Weekend –
– August 31 – September 3, 2018 –
– Official Pre Party – August 30, 2018 –
– Chattooga River Resort & Campground –
– Long Creek, SC –
Surrounded by the Sound Music & Arts Festival is bringing the best of the best in the Reggae/Rock Scene to you as a three day camping and arts music festival! Two Main Stages plus Acoustic & Late Night Stages, Disc Golf, Kids Zone, Craft Beer, Food & Merchandise Vendors, Art, Yoga, and GOOD VIBES!
Our Mission For Surrounded By The Sound is to showcase the amazing talent that lies on the East Coast in the Reggae/Rock Scene while establishing a community of like-minded people who relate to the positive movement through this music and wish to see a change in the world.
EARLY BIRD TICKETS, VIP UPGRADES, ULTIMATE SBTS VIP EXPERIENCE TICKETS & PRE PARTY TICKETS GO ON SALE FRIDAY, SEPTEMBER 15, 2017 at 12 AM EST!!!!
Thursday, August 30th – OFFICIAL PRE PARTY
$40 Ticket | Early Access to Campground (8 AM)
Music Line-Up: TBA
Tickets Available at:
Our Partners/Sponsors: Infamous Ink Tattoo Studio | Bangbox Percussion | Black Rose Custom Prints | Innova Disc Golf | Rowdy Roots | Flowlife Entertainment
Food Vendors: Pep Rolls | More TBA
Retail, Apparel & Art Vendors: Hympknotic Designs | More TBA
Not into Camping? – Hotels in Clayton, GA
Days Inn | America's Best Value Inn | Quality Inn & Suites
FAQ for SBTS:
Q: Does the $100 Early Bird Ticket Price include entry each day to the festival and camping for Friday through Monday?
A: Yes!
Q: Is the festival held at the Chattooga River Campground and Resort?
A: Yes!
Q: Are there facilities for people to use while camping?
A: Yes! There are two bath houses on site that will be open for select hours in the morning and evening.
Q: Is tent camping on a first come, first serve basis?
A: Yes! We have enough camping space for all attendees, but the site you camp at will be on a FCFS basis.
Q: Will cars be allowed to pull into the Campground to unload camping gear?
A: Up Until 12 PM on Friday, Yes! After 12 PM on Friday the campground gate will close and the road will no longer be in service. We recommend bringing a cart or wagon to help you get gear to the campsites. We will also have volunteers and golf carts available to assist in this area as well.
Q: Will there be amenities available for campers?
A: Yes! We will have everything you may need/want available at the Lodge.
Q: Is there electricity or picnic areas available in the Campground?
A: Yes! Every campsite has a covered picnic area with electrical outlets available. These are communal and meant to be SHARED!
Q: Will the restaurant/bar at the Lodge be open and serving food/drinks?
A: Yes! The Lodge will be fully functional that weekend. We will also have several food vendors at the festival as well as a craft beer sponsor serving brews at the festival!
Q: How do I sign up for the Disc Golf tournament?
A: Registration for the tournament will be on Friday night ($5) and the tournament will be played Saturday morning.
‼️‼️‼️ADDITIONAL INFO FOR SBTS:‼️‼️‼️
1.) Ride Share and Carpooling is encouraged because parking will be tight, PLUS it's environmentally friendly!
2.) No vehicles will be allowed in the campground from noon on Friday (8/31) till Monday Morning (9/3).
3.) We have space for RVs but no hook ups.
4.) Absolutely NO foot traffic on the asphalt road.
5.) No personal golf carts, dirt bikes, quads or ATVs.
6.) No outside drinks in the stage area.
7.) There will be no reserved or "roped off " campsites. All pre marked sites are shared and the gazebos and utility areas are communal.
8.) All vehicles in unauthorized parking locations will be towed at owners expense.
ATTENTION ALL RV/CAMPER GUESTS: If you plan on attending SBTS 2018 and will be bringing an RV/Camper or staying in your car at night, PLEASE EMAIL lucky@sbtsfestival.com to ensure that you are accommodated and taken care of. We want this to be an enjoyable experience for EVERYONE, and together we will achieve this goal.
South Carolina Apple Festival
Beginning the day after Labor Day and running through the following weekend, the South Carolina Apple Festival celebrates the beginning of apple harvest season in Oconee County, the largest apple-producing area in the state. The annual festival has drawn thousands of visitors to the Westminster, South Carolina area since its first appearance in 1961.
Whether you enjoy whitewater rafting, shopping for arts and crafts, browsing antique shops,  or just kicking back and listening to live musical entertainment, the Apple Festival offers something for everyone in the family. Most of the events are free and are planned with the entire family in mind.
From the Kiddie Rides, which draw a steady line of youngsters, to booths featuring woodworking, jewelry, clothing, leather goods, and other handicrafts, the street provides blocks of shopping options for visitors and the home town folks alike.
And the food! Whether you prefer a full barbecue dinner, sandwiches, hot dogs, funnel cake, fried apples pies, homemade ice cream, or want to stock up on home grown apples, honey and fruit preserves, it's all there! If you have never tasted a Blossom Onion, this is your chance!
One highlight of each year's festival is the annual Apple Festival Parade, held at 4:30 p.m. Friday afternoon.
The fun continues throughout the weekend and the activities on Main Street continue all day Saturday, with live entertainment throughout the day. See Map.
Sorry, because food is served at the festival, no pets are allowed on Historic Main Street during festival hours.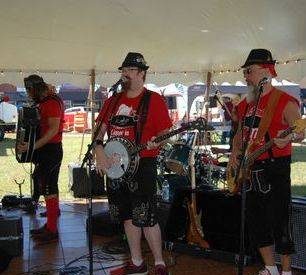 The Walhalla community honors its German heritage with the celebration of Oktoberfest.   
THE ANNUAL WALHALLA OKTOBERFEST
Since 1979, Walhalla, South Carolina has celebrated its German heritage by welcoming residents and visitors alike to the annual Walhalla Oktoberfest for a weekend filled with fun, food and fireworks!
Join us on the third Friday, Saturday and Sunday in October at Sertoma Field to enjoy authentic German fare of bratwurst & sauerkraut, funnel cakes, and Apple Strudel along with some more American treats of barbecue, blossoming onions, and boiled peanuts.
Dance a polka, waltz or the "Chicken Dance" while listening to The Little German Band. Browse through the numerous vendor booths for arts, crafts, baked goods and other treats and get a jump on your Christmas shopping since there'll be only eight weeks to go!
For the kids there is a carnival that will provide hours of fun, along with a "Kinderhaus" for face-painting and crafts. And for the children of all ages, the fantastic fireworks display on Saturday will be the perfect way to conclude the night.
https://walhallaoktoberfest.com/